Submitted by Hawk on Sun, 08/17/2008 - 14:34
Posted in
Quick way:
1. Right click on the TrendMicro icon next to the clock on the start bar
2. Click on Exit
3. Click Yes to confirm you want to shut it off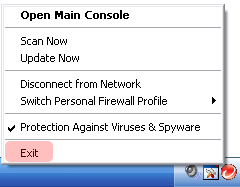 ---
Longer way:
1. Open TrendMicro Internet Security
2. Click on the Virus & Spyware Controls button on the left
3. Click the

button next to Protection Against Viruses & Spyware heading
4. If the

turned to
then TrendMicro Internet Security is now off.